Single Storey
Set on 2000m², the ground floor plan covers 193m² with an open plan. There are 3 bedrooms with all ensuite, with BICs. The house is modern and spacious with ample garden space.

Features
The plan features a beautiful airy open style with a central bar accessible from all open sections. It comes with an alfresco entertainment area below the large balcony with a view of the pool and garden.

Amenities
The plan offers double lock-up garage for vehicle security. There is the convenience of 4 bathrooms. The plan makes use of glass walls to promote natural light and reduce energy usage late into the evening.

Customisation
There is an option to use this plan as a basis for your custom house. Move rooms around, add or remove features and take it through for approval through our architectural committee that will evaluate it inline with area building and market standards.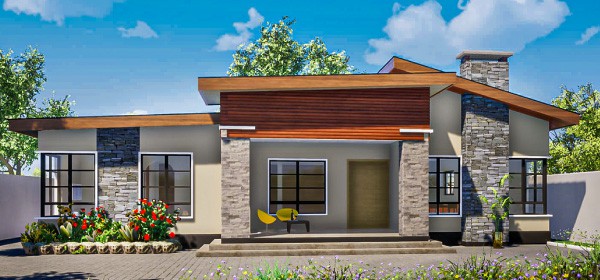 Bungalow
A 3 piece roof is the basis for the designer house. Simplicity in the roof lines creates the stunning visual effect of a running river or cliff edge. The rear of the house contains a flat concrete roof for water storage tanks.